Reverend Charles K. Riepe Alumni Award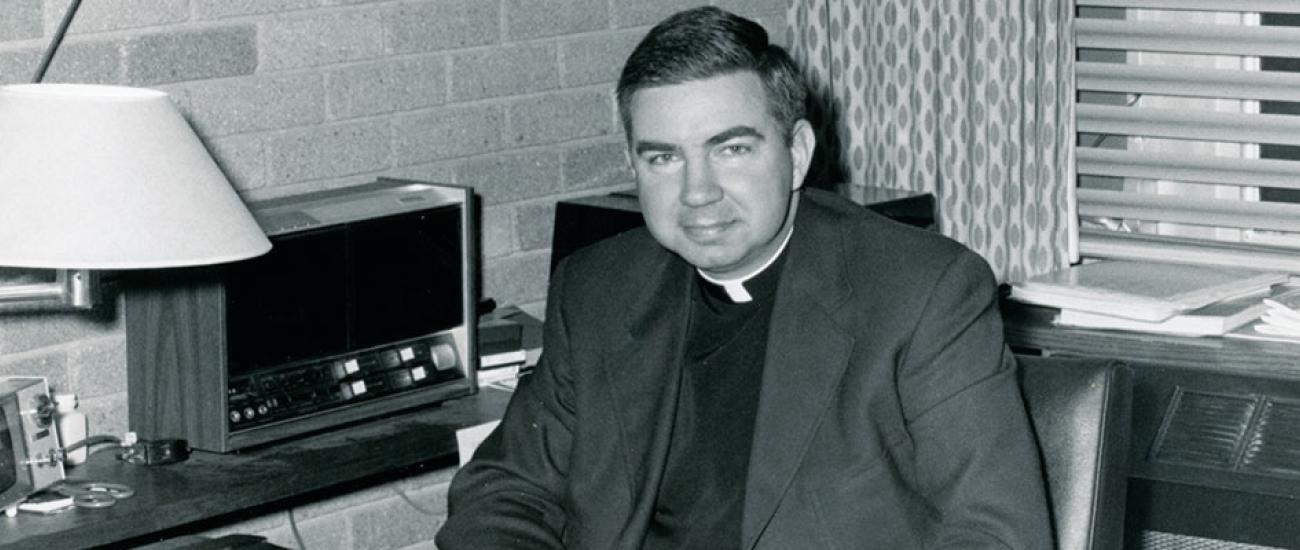 Recognizing Outstanding Achievement and Community Service
The John Carroll School aims to cultivate in each student a love of learning, a respect for self, and a sensitivity to others. We provide a Catholic foundation of values, challenging academics and real-life experiences to educate the whole person; spiritually, intellectually, physically and socially. Our school community develops young men and women of moral integrity, and prepares them to serve responsibly in shaping a more just and compassionate global society.
The Reverend Charles K. Riepe Alumni Award recognizes alumni who have demonstrated outstanding achievement, community service and support of The John Carroll School. The winner shall be an exemplary role model consistent with the Catholic values and philosophy of The John Carroll School. This award is the highest honor that can be given to alumni of The John Carroll School.
The Reverend Charles K. Riepe Alumni Award is presented each year at Commencement and the recipient is the Commencement speaker. Anyone from the extended John Carroll community is invited to nominate an alumnus for this award by providing the information requested on this nomination form. Anonymous nominations are not permitted nor are self-nominations.
Any nomination submitted will remain on file for 3 years and will be considered by the Selection Committee for each of these three years. Nominations can be submitted at any time but nominations must be received by November 1 to be considered for the award presented at the May Commencement of that academic year.
Award Winners
2023 - Lawrence (Larry) Burton '80  2022 - Susan Weller Kutcher '85  2021 - Chuck Boyle '69  
2019 - Tom Kelso '70  2018 - Brian Olsen '90 2017 - Michael Romanelli '71 2016 - Eddie Hopkins '75
2015 - William Boniface, Jr. '82 2014 - Peter Long '85 2013 - Vickie Ensor Bands '75 2012 - David Sedney '69
2011 - Barbara Stauch Slusher '82 2010 - Jennifer McIntyre '87 2009 - John von Paris '77 2008 - R. Todd Bradley '76
2007 - Lt. Gen. Mark Ramsay '77 2006 - Stephen Lozinak '87 2005 - Geoffrey Garinther '77 2004 - David DiPietro '78
2003 - Charles Riemenschneider '70 2002 - Capt. Patrick Seidel '77 2001 - Stephen Mosko '74 
2000 - Sr. Karl Ann Homberg, SSJ '69 1999 - David Hilbert '75 1998 - Paul Ishak '81 1997 - George Stover '69
1996 - Patrick McGann '78 and Lisa Coomes McGann '79 1995 - Casey Klarich Marsh '88 1994 - Caryn White Stedman '72
1993 - Jon Bellantoni '76 1992 - Gerard DeMuro '77 1991 - Joseph Wiley '74
1990 - Sarah Turner Bunce '71, Jeffrey Mundth '70, Claire Salkowski '70, W. Dennis Seufert, Sr. '70, Jeffrey Vaughn '72
1989 - Michael Berna '84, Ted Boggs '76, Pamela Byers Buhidar '84
1988 - Stephen Hilbert '73 1987 - James Kaper '70 1986 - Anne McCollum Eikenberg '73 1985 - Andrew Klein '71 
1984 - Joanne Hatem '73 1983 - Linda Williams Hyle '70 1982 - Victor Barnes '70 1981 - Gregory Gay, C.M. '71 
1980 - Anne Schissler Parish '71 1979 - Joseph I. Cassilly '68 1978 - John P. Correri Jr. '70 1977 - Gary Jordan '68
1976 - Ralph Romanelli '68 1975 - Lynn Loughlin Skerpon '71